had an enjoyable dinner with fellow podders. its the 3rd and almost consecutive times i'm celebrating my birthday with them (except for last year) .. the dinner was pretty good at this sun and moon japanese restaurant at wheelock place, and the crab meat with spinach in hot plate is a must try! *slurp*
after a hearty meal, its time for me the b'day boy to cut cake. of coz i got the usual b'day song (i made a different little wish again~) and some photo taking session..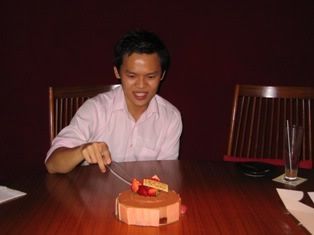 cutting my cake..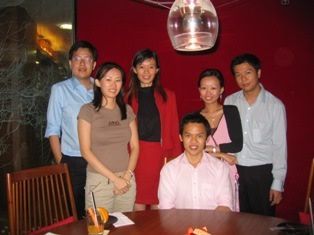 the 2 couples and a good friend and me..
really appreciate sandy's effort to get the folks together for the 3rd time. if not for you, i don't think i get to celebrate my birthday with anyone as its just gonna be another day for me..
thanks for making my day..
thanks for the cake..
thanks for the pressie as well..
thanks for everything..
thanks for being a good friend...