had a pretty fun day at east coast today. the haze is quite bad but that did not dampen our mood to blade. in fact, i was so surprised by the crowd at the park as it certainly don't look like a sunday, coz so few people!

most of us are amatures in blading except for jen and sher was blading the 1st time so our progress was slow today.. and we took quite a while to get to bedok jetty for this pic..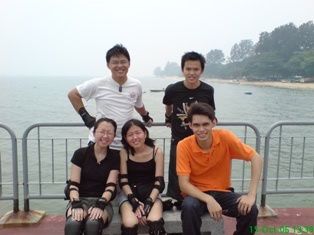 rented the blades for 2.5hrs and was charged for 3 hrs.. $17! so freaking expensive! the money i spend renting another few times will be more than enough for me to buy my own blades, so i had better get mine before my next blading outing..


-----------------------------------

from tomorrow onwards, i cannot tell people i'm still 26.. sad..
3 more years and i'm 30.. OMG!

coming to my 27th year on mother earth, i shall reveal my 3, 5 and 8 years* master plan which i set for myself. its not an easy plan to pursue as i feel that its rather demanding, both financially, emotionally and physically, but its not totally impossible. at the end of the day, how much i can accomplish is not really important, but wats more important is that i have something to guide me so that i know where i'm heading to.


*timeline: in 3 yrs i'll be 30 years old, in 5 years i'll be 32 years old and in 8 years i'll be 35 years old.


29 yrs old - senior engineer
35 yrs old - lecturer at one of the polytechnics/universities/private institutions + consulting work


now - MSc (master of science)
28 yrs old - PMP (project management professional certification)
32 yrs old - MBA (master of business adminstration)
35 yrs old - PHD (if i decide not to pursue a MBA earlier)


now - toyota corolla altis
30 yrs old - condo (if i dun get married by 30 i'll get my own house then)
32 yrs old - honda integra (by then my baby shld be abt 6 yrs old and its a nice time to change) hehe.


visit at least 4 wonders of the world by 35 yrs old, and finish all the rest before i turn 40 yrs old.


ok.. why no family plans as you may ask? haha... i dunno? for those who know me should know that although i very much wanted one (i'm a family man you know?), maybe i just dun have the blessing to start one? when i was 18, i actually planned to get married when i reach 28 or 29 but looks like this is not possible now. anyway i won't rule out that singlehood maybe my destiny... will keep my fingers crossed..