before i start this entry i'll like to wish all children young and old (like me)..
a
happy children's day! *balloons flying*
as a typical singapore guy, i won't deliberately happily & eagerly take out my no.4 and wear unless required. since yesterday there was mobilisation, i took this golden opportunity to take a few pics of myself in green =)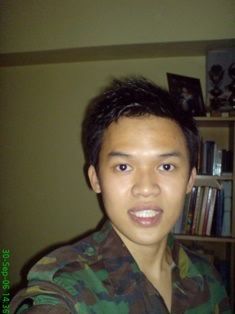 i must be mad to smile so happily for mobilisation!

the pai-kia ns-men who still has his earring on. not scared kena charged =)
1/2 hr was all needed to finish the whole process.
after the mobilisation, we decided to chill out at jp coffee-bean.
i kena taken a pic also dunno.. see me so fugly -.-" tell me next time if you wana take a pic of me hor? i'll pose for u =P
look at how i used to look 6 yrs ago..
ord lor!
some even thought i'm the one in the middle or left.. dunno should i smile or cry.. -.-"
and before i end, you peeps should know that you have exactly 16 days left (including today) to get my birthday pressie. of coz i'll more than happy to receive pressies that are worth many times your salary, but those little thoughts that can touch my heart will probably worth much more in my eyes =)
so dun procasinate anymore! start moving!