i'm posting this post with a hao lian look on my face =)
i've finally a graduated postgraduate! yeah! just collected my transcript and certificate today and had dinner with my classmates. i think my team really power house: of the 5 people, 4 got 1st class honours ( including 小弟 me =D ).. guess the rest of the class only got another 1 or 2 of them got 1st class honours only. to top it even further, the top student for this master of science (MSc) intake also came from my team!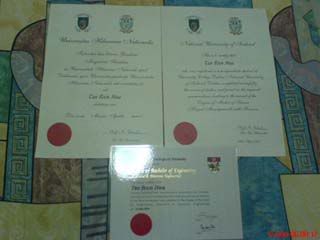 the certificate is freaking BIG (A3 size)! look at the comparison with that i got from ntu. being a graduate of the national university of ireland, dublin, i have the privilege of having 2 certificates: left is in irish and right is in english.
so happy that i got the 1st class honours! i was still very sad for the results of my last 2 modules as i did not perform well enough and that pulled my grades down significantly... *phew* actually till today i still find it strange that a masters degree got the honours classification coz i thought its only pass/fail only, and the only explaination i have is that this is a rather academic course, so having this classification is probably a good way to rank the candidates..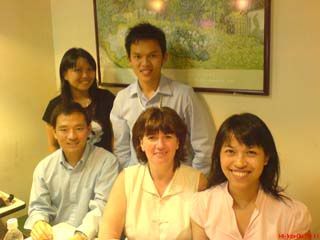 my team. yup, i'm the youngest. =) but i look like some maniac in this pic.. =(

after this i'll probably stop studying for a while except for a professional certification which i hope i can get latest by next year. otherwise, a MBA or a phD will probably something that i can add to my collection but definitely not within the next 2 years? haha.. no $$$ liao... collecting certificates is a very expensive hobby u know?
at the end of the day, with all these i have got, i'm still a nobody u see on the street...