continue...
yarra river - the left is melbourne city, the right is southgate
weather
its FREEZING!! the average temperature is about 16-20 deg C. when i first step out of the airport, i actually wondered if i'm walking into another aircon area coz its really cold! its only when i saw cars then i realise that i'm walking in open space, and the low temperature is certainly not the work of inconsiderate airport staffs who wanted to freeze the passengers to death...
for the rest of the week i'm always in my windbreaker.. no choice.. on occasions i even have to wear 3 layers of clothes! okok, i admit that i have low tolerance for low temperature but its really cold, much colder than genting. its WORST when the wind is blowing... now i can really understand how people can die from frost in other countries.. it can be really bad at times..
work
work starts at 7am and ends at about 5pm everyday. the hours are even longer than when i'm in singapore! anyway work is rather smooth except for some cuts on my hands...
food
OMG!! i'm going to avoid eating eggs, beef, chicken, sausages, bacons, bread and potato for 2 weeks! every morning i have 2 pcs of toast, 2 sunshine eggs and sausages/bacons for breakfast. as for lunch and dinner, it definitely comprises of potato and beef/chicken! i'm really sick of red meat man... *ewwww* australians don't really like to eat vegetables i think coz i haven't been eating vegetables for almost a week! i think i'm suffering from constipation! =(
oh yah, not to mention that food in australia is kinda salty... =X
here is another pic...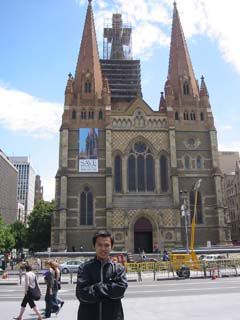 st paul church along flinders street