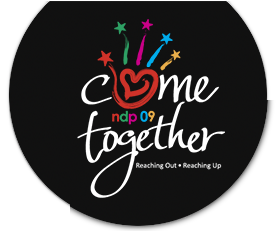 mrs tan and myself will be the envy of many others on 09-aug-09, as we march into the floating platform for the ndp'09 parade!
aweeee~~
the tickets came as a pleasant surprise when my chairman asked me whether i'm interested to attend. not to disappoint him i agreed but deep in my heart i'll not want to attend without the accompany of mrs tan. however i'm paiseh to ask for additional ticket as i dun want my chairman to think that i'm 'yao-kwee'. he seems to hear my silent plea and he voluntarily added another ticket for mrs tan!
yeahhhhh~~!
not to mention, mrs tan was delighted of the good news that she immediately announced in facebook that she is going to ndp'09! =D
it will be nice to return to the parade after 11 years, as the last time i attend was in 1998...