OMG! OMG!
OMG! OMG!
OMG! OMG!
OMG! OMG!
OMG! OMG! OMG! OMG! OMG!
i've been trying to deceive myself that i only weigh 57kg.. but today the truth is finally out.. i'm no longer so light..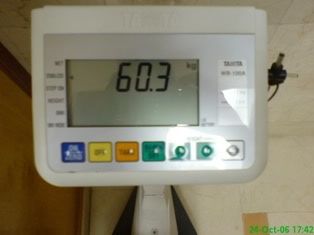 yes, i'm 60kg.. (the extra 0.3kg is the result of my wallet, handphone, car keys)
ahhh!!!!!! shit!! shit!! shit!!
i cannot tolerate my body growing in the wrong direction!
ok i shall impose strict restrictions and selections on my food intake from today onwards. no more fast food, no more fatty food, no more excessive sweet stuffs! so you people better don't try to tempt me with any sinful food..