this was how my ear pierce looked like more than 2 years ago..




i cannot remember exactly when i pierced it nor whats the reason for piercing it. the only thing i remember is the fucking pain!! call me weak or wat i dun care, but try getting your pierce with a air gun and a thick pin.. the pain is really unbearable i tell u.. anyway due to infections the ear pierce was closed within 2 months.

and since then i've always wanted another pierce, coz i think its kinda cool and i did receive encouragements that i can carry the new look.

hence i waited and waited. finally, i picked up the courage to undergo the ear pierce yesterday! yeah! this time the pain is really much less than wat i have to suffer 2 years back. i didn't feel much pain even till now, so i dunno whether my pain resistance is getting better, or that this new method of ear pierce really works for me..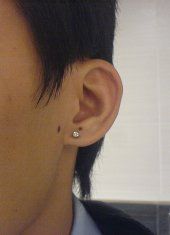 my new ear pierce, with a nice crystal resting on titanium pin. =)