army daze (the font colour suits just nice huh! =D) starts today till 05/05.. and i'm glad that i'm able to return home almost everyday (except the deployment time..)during this dazy period of 3 weeks..
being the first time i going back my camp since i ORDed in 2000, i feel really kuku as i'm one of the 2 guys (the other is my dazy mate ah kiat) who bring our barang barang (fieldpack, SBO, helmet...) the 1st day. (i ask him to bring one.. hehe!) anyway its not that bad lah as the items will still be needed so its just a matter of time when we want to bring them in.
being a NSmen is really super shiok! reach there at 815am when the reporting time should be 8am. wander off to the wrong building as i dunno where on mother earth block 8 is.. they might as well change the signboard to 37 degree latitude, 68 degree longtitude coz the block number for all the buildings are located at the wrong side of the blocks instead of places where people can see clearly! other than that, 1st thing to do there is to contribute to the canteen by having our morning break there. after that is briefing, bunk, lunch, briefing, bunk, go home!
sure grow fat man if this goes on for 3 weeks.. luckily tomorrow morning there is a run... =)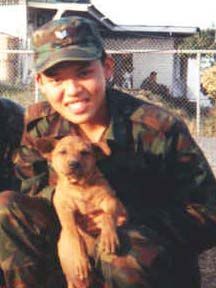 i managed to dig out this pic of me in green, taken in 2000 while i was undergoing training in thailand... did i change much?