i'm back! touched down at about 1040pm. will be an hour earlier if not thanks to the fuck up of the baggage sorting system back in melbourne airport.. and the pilot keep on emphasising that its not the fault of SIA for the delay.. haha!

just managed to clear my stuffs from my bags. did not bring much back this time due to limited time in sightseeing hence even more limited time to buy soveniors. anyway everything is expensive there.. just think of the 1.26 conversion rate and you will understand what i mean.. -___-""

okok, here is a pic to quench all your thirst for the past week!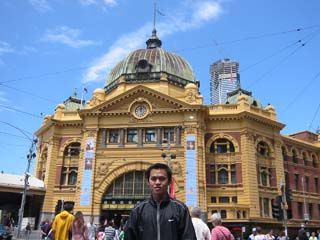 flinders train station @ flinders st (melbourne)

will update with more pics tomorrow!
---------------------
haizzz.. really no one miss me.. sibei sad ah.. *CRIES*