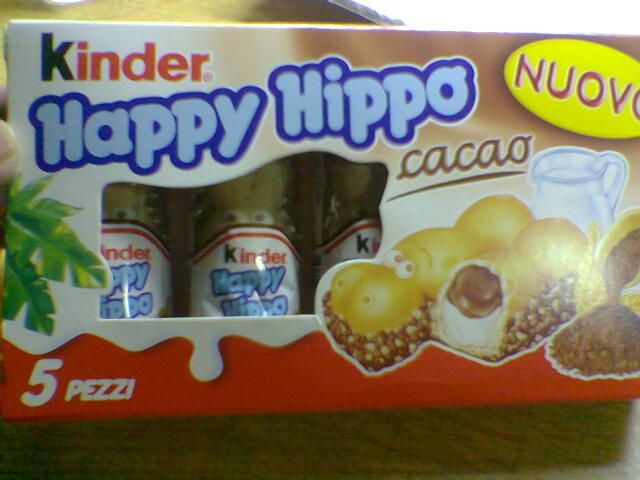 look at what my 'ka-ching' (cousin) got for me from italy?! kinder happy hippo!! not available in singapore k! thanks! regarding your baileys irish cream, i'll help you get it if i'm not getting any liquor.. maybe i'll ask my manager to get one too if he isn't buying any.. =)
-------------------------------------
today people either said that i looked very tired or that i've lost weight.
pretty true.
after all that i've gone thru the last 2-3 weeks has certainly made a negative impact on my mind and body. preparing for exam, escalating workload, tuition, overcoming bgr, accomodating a lousy family... i admit that i've times where i'm down and out, but i really wonder how i managed to survive all these while without giving up altogether. maybe i'm really a much more strong-willed person that i thought i were. maybe all the things happening to me have really made me a stronger person over the years. no matter what, thats good news to me. =)
anyway today's paper didn't really turn out well. the lecturer basically recycled last 2 years questions but i did not benefit much from it because i did not prepare for them. out of the 5 topics i prepared, 2 totally did not come out. other questions were sort of "two of the same kind" of questions where the same concept can be applied and answered in 2 seperate questions. find it really weird... also did not plan myself well for the exam, thereby causing me to struggle in the last 15mins. dare not think too much for this exam, just hope that i can maintain last module's standard to be on track..
went to gym and later stayed in orchard for shopping.. hands nowadays very itchy *scratch scratch* .. like to spend $$$... =( must control!! awww!! how how??!! maybe tomorrow going down to make the purchases i saw today... ahhh!!! control!!
---------------------------------
ok.. need to pack my luggage soon...